More info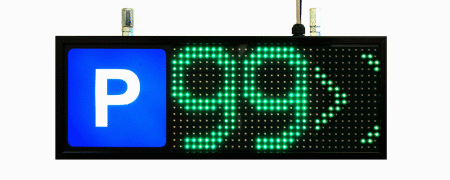 Application:
Systems for indicating available parking spaces within a single alley.

Description:
The display indicates the number of free parking spaces within the nearest area in the parking lot. The place of installation of the display should be the transit route in the parking lot, from which the transitive alleys with parking spaces leave. A driver traveling through a transit aisle can see several displays from a distance, and based on their indications, he can make a decision about choosing a parking alley.
Further, in the area of ​​one alley with parking spaces, the basic indication is the signaling devices of individual places along the alley.


Technical data:

Overall dimensions (W x H x D): 510 x 190 x 60 mm

Weight: approx. 1700 g

Working principle: RGB LED matrix 32 x 16 points

Installation: under a roof or on a supporting structure along a transit alley

Digits: 160 mm high, green and red

Targeting character: Animated green arrow in the presence of free seats or a stationary red arrow in the absence of seats

Power supply: 230 V AC I = max 0.7A

Power consumption: 30W max

Communication bus: Addressable RS485 address 0 to 63. Speed ​​9600, E, 8.1. The possibility of autonomous work with one branch of detectors max 16 pieces. A communication protocol dedicated to the VIPark system

Working temperature: -35 ° C - + 70 ° C

Degree of protection: IP54 / under a roof

Housing: Frame: aluminum profile powder coated in light gray. Front windscreen PMM

Mounting method: Mounting through holes in brackets led out of the outline of the housing directly to the ceiling, wall or supporting structure. Alternatively, assembly by means of two threaded rods led out of the housing on the top cover of the housing

Programmable parameters: Address, arrow direction

Connectors: Cable lengths about 1m long from the housing. Power cable 3x1mm2 and signal 2x2x0.5mm

Cable outlet: Via cable glands mounted in the housing

Switches: 'Reset' and 'Setup' buttons hidden inside the housing. Used only at the system configuration stage

Fixed graphics: 'P' sign backlit with white LEDs