More info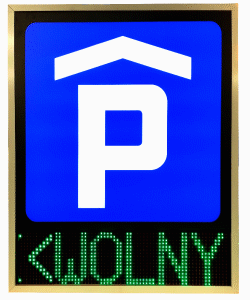 Application:
Systems for indicating vacancies in the parking lot,

Description:
The display indicates the presence or absence of free parking spaces. The place of installation of the display should be the access road. The display is adapted to work in outdoor conditions. The lit lettering is made in the form of an LED matrix with a wide viewing angle and high brightness. Subtitles in many language versions with the option of alternating display in several languages ​​and displaying the number of remaining places in the case of control via RS485.
The free space indicator is completed with an animated arrow pointing in the right direction. Control by means of a potential-free closing contact. Short-circuiting means no parking spaces. Control via RS485 is also possible.


Technical data:

Dimensions (W x H x D): 700 x 860 x 140 mm

Weight: approx. 10,000 g

Working principle: RGB matrix animated with LED 16x64 pixel technology

Installation: outside on the wall or on the supporting structure near the access road to the parking lot

Field variable: 160 mm high, RGB, brightness min 5000cd / m2

Working temperature: -35 ° C - + 70 ° C

Power consumption: max 100W

Power supply: 230 V AC I = max 1.2A

Control: Potential-free make contact. Short-circuit = 'busy'. The possibility of using RS485 or Ethernet

Degree of protection: IP54

Housing: Frame: aluminum profile powder coated in light gray. Plexiglass windshield

Mounting method: Installation through openings outside the outline of the enclosure directly to the wall or supporting structure.

Connectors: 100cm cables lead through cable glands

Cable entry: PG9, PG11 glands

Switches: Setting the language versions and the direction of the animated arrow with one button that is active when the power is turned on. To access the button, the housing must be opened.

Fixed graphics: 'P' mark. The pictogram is backlit with high efficiency white LEDs.